Spectacular new loan for the Rubens House: Titian's unfinished Portrait of a Lady and Her Daughter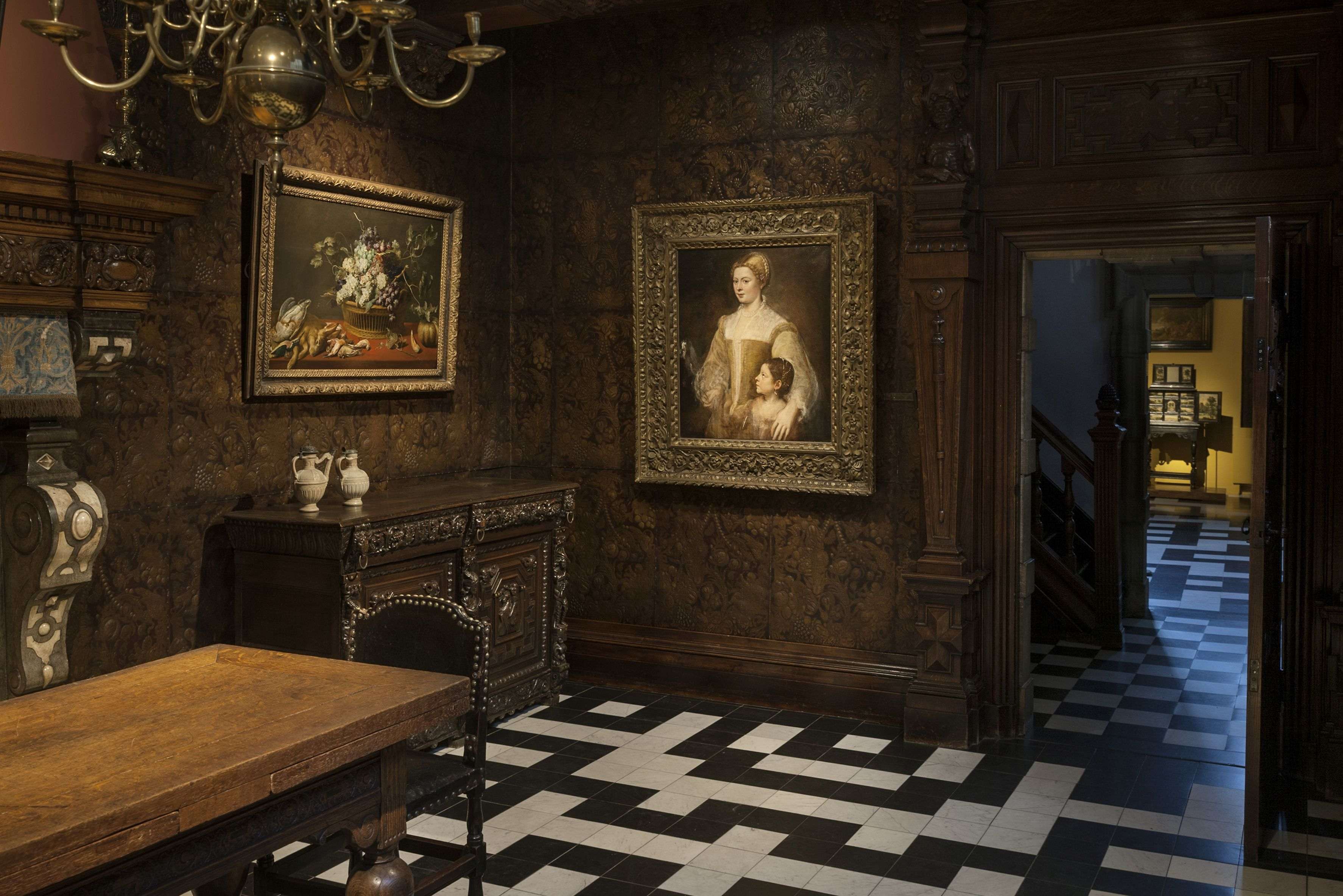 Following the '"New" Van Dyck' (head of a Brussels magistrate) and 'David Bowie's Tintoretto' (St Catherine), the Rubens House will now present 'Portrait of a Lady and Her Daughter' from 21 November 2017. The work, by the Venetian master Titian, is a masterpiece with a secret. This latest 'distinguished visitor' is perfectly aligned with the loan policy pursued by the Rubens House and also forms an excellent preliminary for the city cultural festival Antwerp Baroque 2018: Rubens Inspires.
Portrait with an intriguing past
Barely five months after presenting 'David Bowie's Tintoretto', the Rubens House is showing a beautiful double portrait of a woman and her young daughter, painted by Titian.
Portrait of a Lady and Her Daughter has an intriguing history. The identities of the young mother and her little girl are not known, but it has frequently been speculated that they are Titian's mistress and her illegitimate daughter. This piquant biographical detail is said to explain why the canvas was overpainted in the master's studio immediately after his death. It was discovered in 1948 by X-ray examination.
copyrights image: Ans Brys
The composition was transformed – possibly on the initiative of Titian's eldest son, Pomponio – into an image of Tobias and the Angel, although the overpainting might also have been done for commercial reasons, since a religious theme will have been easier to sell than a portrait of an unidentified mother and daughter. Pomponio sold the painting, along with his father's house and all its contents, to the prominent Barbarigo family, in whose palazzo on Venice's Grand Canal Tobias and the Angel hung for over 250 years. Visitors to the building included Rubens and Van Dyck, who must have seen the painting there.
The work's most recent owner but one – also a restorer of old masters – devoted 20 years of his life to removing the overpainting and revealing the original composition. Shortly after the restoration was complete, Portrait of a Lady and Her Daughter was presented at the big Titian exhibition held at the Prado in Madrid in 2003. It was also one of the highlights at 'Unfinished – Thoughts Left Visible', the inaugural exhibition at New York's METBreuer-Metropolitan Museum in 2016.
Tiziano Vecellio (1485/90–1576) was a Renaissance and Baroque artist whose status was already legendary in his own lifetime. Titian, as we know him, died at an advanced age in Venice – a celebrated figure who mingled on an equal footing with the rich and powerful. His pictorial style, extraordinary use of colour and his brilliant technique formed an inexhaustible source of inspiration for generations of artists, including 17th-century Flemish painters like Rubens and Anthony van Dyck, on whom he was a powerful influence. Both Antwerp masters studied, copied and collected Titian's work intensively.
Long-term loans
'Buying the work of great names like Titian is no longer feasible for most European museums', says the Mayor of Antwerp, Bart De Wever. 'So we're incredibly happy and grateful to be able to enrich the Rubens House with long-term loans from private collections. The fact that so few Titians remain in private hands makes this latest loan doubly unique.'
Portrait of a Lady and Her Daughter is without doubt the best Titian to come on the market in decades. Simultaneously monumental and tender, the portrait peerlessly captures the relationship between parent and child. The way the girl looks at her mother is the painting's highlight.
Attracted to the policy pursued by the Rubens House and encouraged by the international resonance of 'David Bowie's Tintoretto', the owners decided to lend the painting to the museum. It is an immense privilege, therefore, that the Rubens House is able to host this marvellous portrait from the height of Titian's career for a prolonged period.
Flemish Minister of Tourism Ben Weyts: 'The Rubens House collection has been further enriched in the run-up to "Antwerp Baroque 2018: Rubens Inspires" by Titian's unfinished Portrait of a Lady and Her Daughter. It's a spectacular loan that brings even greater prestige to the museum. A tourist destination has to constantly renew its offering if it is to remain top of mind for foreign tourists. Flanders is the cradle of a great deal of European art and culture. We want to enthuse Flemings and international visitors alike about our Flemish Masters.'
Antwerp Baroque 2018: Rubens Inspires
The city cultural festival 'Antwerp Baroque 2018: Rubens Inspires' pays homage to Peter Paul Rubens and his Baroque, cultural legacy. The festival runs from June 2018 to January 2019 and will spotlight Rubens – one of the most influential artists of all time and Antwerp's most famous citizen. The Rubens House will present an enhanced collection in 2018, under the heading 'The Master Comes Home'. The museum's presentation will be substantially expanded by a number of masterpieces.
Caroline Bastiaens, Alderman for Culture: 'The arrival of this painting is also a wonderful preliminary to the city cultural festival "Antwerp Baroque 2018: Rubens Inspires". It shows how Antwerp is preparing to immerse itself in a Baroque ambience next year, in a way that will be both lavish and surprising.'
Practical information
Portrait of a Lady and Her Daughter
From 21 November 2017
Rubens House
Wapper 9–11, 2000 Antwerp
www.rubenshuis.be – www.facebook.com/rubenshuis
€ 8 / € 6 / free
Open Tuesday to Sunday/10 am–5 pm
Closed Monday
For further information and visual material
http://pers.rubenshuis.be/media#
Restauration process
DOCX - 4.5 Mb
Download
Titian
DOCX - 128 Kb
Download