Rubens House presents David Bowie's Tintoretto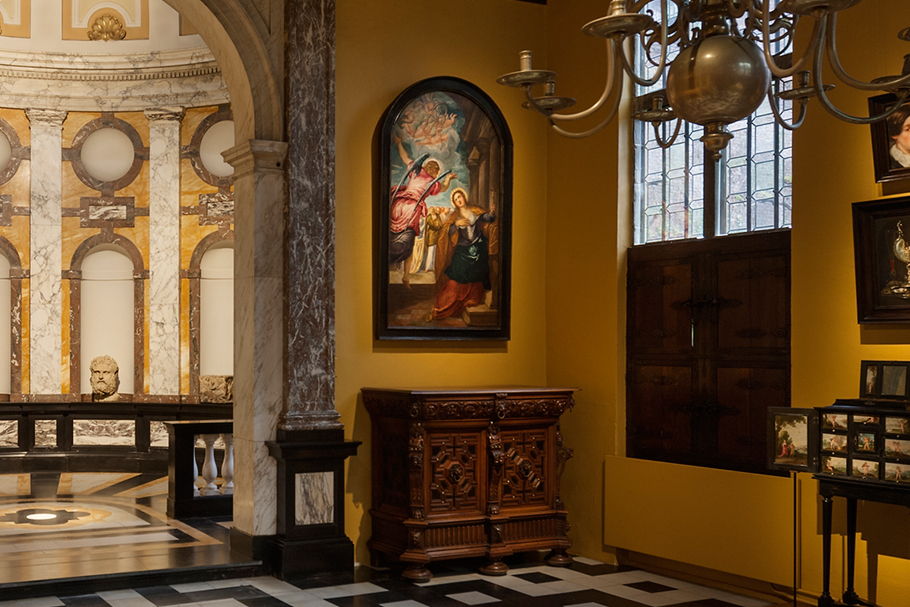 The Rubens House has the privilege today of unveiling David Bowie's Tintoretto. The British rock star owned St Catherine by the Venetian painter Jacopo Tintoretto (1518–1594) for over 30 years. Following Bowie's death in 2016, his exceptional art collection was auctioned on 10 November that same year at Sotheby's in London. There was one noteworthy old master amongst the modern and contemporary works by the likes of Frank Auerbach, Jean-Michel Basquiat and Damien Hirst: Jacopo Tintoretto.
Bowie, like Rubens, was an immense admirer of the Venetian artist. Rubens not only drew inspiration from Tintoretto for his own work, he also had seven of his fellow artist's paintings in his own collection. The monumental St Catherine altarpiece, painted in the 1560s, was purchased by a private collector who announced to the world's press within minutes of the sale that he would be loaning the painting long term to the Rubens House – 'a museum Bowie loved'. What David Bowie never knew is that a brilliant underdrawing lies hidden beneath the layers of painting, as discovered recently during technical examination of the altarpiece at the Royal Institute for Cultural Heritage (KIK-IRPA) in Brussels. The underdrawing suggests that the work can be dated to roughly a decade earlier than previously thought and shows how Tintoretto developed the painting in his own hand, continually adjusting the composition as he worked. The Colnaghi Foundation, in collaboration with the Rubens House, will present a scholarly publication in October devoted to Tintoretto, Rubens and Bowie, with contributions from several international specialists. The Flemish Minister of Tourism, Ben Weyts, was so impressed by the whole story recently that he promptly gave his backing to a tentative plan to return the painting temporarily to Venice, where Tintoretto's altarpiece will now be exhibited at the 2019 Biennale, accompanied by a raft of Flemish old masters who were amongst the Venetian artist's admirers.
'The gift that a great painting gives you: it's just there for you to marvel at, it lifts your spirits, instils you with hope and beauty, but it doesn't expect anything in return.' As a painter and an accomplished collector, it might easily have been Peter Paul Rubens who made this striking statement. The words are, however, those of the late David Bowie almost four centuries later. The world-famous rock star, enthusiastic collector and huge admirer of Rubens was asked, 'if you could invent a drug, what would it be, what effect should it have?' Bowie replied, 'A shot of hug. Preferably from a three-year-old like my daughter, that age, that brief window of time when a child hugs you with all its might and conviction and pure, undiluted love, without it expecting a reward. The kind of gift that a great painting gives you: it's just there for you to marvel at, it lifts your spirits, instils you with hope and beauty, but it doesn't expect anything in return.[1] It would be hard to express the kinship between Rubens and Bowie any more clearly – two versatile, brilliant men, driven by a love of art and of their families.
Tintoretto, seen by Rubens and Van Dyck and bought by Bowie
Tintoretto painted St Catherine around 1560–70 for San Geminiano on St Mark's Square in Venice, a small but prestigious church designed by the architect Jacopo Sansovino, which was already famous in the Renaissance period for its exceptional interior with works by Giovanni Bellini, Paolo Veronese and Tintoretto. Rubens almost certainly saw the altarpiece there and his celebrated pupil Anthony van Dyck even sketched it in situ. Their Venetian counterpart was an important source of inspiration for both Rubens and Van Dyck, and Rubens continued to be influenced by Tintoretto's inventions until the end of his career.
St Catherine remained in the church until it was demolished in 1807 during the Napoleonic period. It was briefly placed in the Galleria dell'Accademia, before disappearing into private ownership. David Bowie purchased the work 30 years ago from the London art dealer Colnaghi. The musician was so fascinated by the Venetian painter that he named his record label after him.
From Venice, via London, to 'distinguished visitors' in Antwerp.
As of today, the Rubens House is presenting the painting as a long-term loan – a policy the museum has been developing for some time now. The approach is not a new one elsewhere, but the Rubens House is playing a pioneering role in this regard in Belgium. Art donations are on the rise. The museum will use this long-term loan to supplement the story of its own collection, which is why its loans – its distinguished visitors – have been integrated in the permanent display. After almost ten years intensively pursuing this loan policy, the strategy is starting to bear fruit.
Underdrawing
Until a few days ago, Bowie's Tintoretto was located at the Royal Institute for Cultural Heritage (KIK-IRPA) in Brussels, where the altarpiece underwent technical examination on behalf of its owner, the Rubens House and the Colnaghi Foundation. Christina Currie's expert team used radiography and infrared reflectography to reveal an exceptionally spontaneous and brilliantly executed underdrawing beneath the layers of paint. Not only does the research show how the painter developed his composition, its results help determine the attribution and date of the work. Comparison of the underdrawing with other examples from Tintoretto's oeuvre allows the painting to be dated to a decade earlier than originally believed. The altarpiece's underdrawing is almost identical to that of the princess in St George and the Dragon – a work by the same artist in the National Gallery in London. Another pleasing discovery was the way Tintoretto continued to adjust his composition throughout the painting process, as witnessed by the many pentimenti or painted corrections that were discovered. The study shows that the work was done entirely by the Venetian artist in person. The research will be resumed later this year, to investigate the passages of sky and architecture in more detail. The findings of the research will be published in the Bulletin of the Royal Institute for Cultural Heritage and the Colnaghi Studies Journal.
Publication
The Colnaghi Foundation is presenting a scholarly publication this October on David Bowie's Tintoretto. The book – David Bowie's Tintoretto: Angel Foretelling Saint Catherine of Alexandria of her Martyrdom – includes contributions by Dr Stijn Alsteens, Matt Collings, Dr Christina Currie, Nicholas Hall, Dr Jeremy Howard, Dr Riccardo Lattuada, Maja Neerman, John Julius Norwich, Dr Xavier Salomon, Serge Simonart and Ben van Beneden. It focuses not only on Tintoretto and 15th-century Venice, but also on the turbulent history of the little church on St Mark's Square, Maerten de Vos, Rubens, Van Dyck and Bowie as a collector.
The independent Colnaghi Foundation promotes the work of old masters to a wide audience in a contemporary manner. The Foundation works with international researchers and experts, museums and collectors to show through a variety of media and channels how inspiring and exciting early art can be. The fact that the painting belonged for many years to the personal art collection of one of the biggest pop icons of all time demonstrates that the great innovators of our own time are more than happy to seek inspiration in historical art.
Back to Venice
Tintoretto painted St Catherine for the altar of the Scuola di Santa Caterina in the Church of San Geminiano on St Mark's Square in Venice, where it could be admired until the building was demolished in 1807. The altarpiece then disappeared into private ownership.
Since the announcement in November 2016 that the painting would be loaned long term to the Rubens House, Ben van Beneden has worked closely with the Colnaghi Foundation on a plan to return the altarpiece temporarily to Venice during the 2019 Biennale. When the Flemish Minister of Tourism, Ben Weyts, learned of the plan, he immediately decided to support it through Tourism Flanders. The painting will be the centrepiece of an exhibition in 2019 on the demolished Church of San Geminiano and the artworks it once housed. The show will also feature works containing famous views of the city by Antonio Canaletto and Francesco Guardi, in which the church can be seen on St Mark's Square. Flemish masters too, such as Rubens, Van Dyck and Maerten de Vos, will be represented through temporary loans by our museums. It is hard to overstate the affinity between Flemish painters and Venetian art. The Flemings absorbed and assimilated the Italian legacy during their visits to the country and through the dissemination of Italian art in the form of prints. Several Venetian works from Flemish museums, including the Royal Museum of Fine Arts in Antwerp, will also return to the city of the Doges for the exhibition in 2019. Minister Weyts is enthusiastic about the temporary return to Venice of Tintoretto's altarpiece: 'This project is not only an excellent reason to share Tintoretto's work with the people of Venice during the 2019 Biennale, it is also a unique opportunity to show our Flemish masters to the world in the place where –more than any other – they drew inspiration from their Italian colleagues and from the classical legacy. I sincerely hope that the project will raise awareness of the unbelievable artistic quality of our heritage and will inspire an international public to come and admire it in Flanders.'
Practical information
David Bowie's Tintoretto
From 27 June 2017
Rubens House
Wapper 9–11
2000 Antwerp
www.rubenshuis.be – www.facebook.com/rubenshuis
€ 8 / € 6 / free
Open Tuesday to Sunday/10 am–5 pm
Closed Mondays
Extra
You will find this story in the 'Distinguished Guests' tour in the free Antwerp Museum app.
Discover David Bowie's Tintoretto and the other loans with their surprising stories during a tour for groups and/or individuals.
For groups
Duration: 90 minutes

Price: € 75 + € 5 administrative costs, not including museum entry

Maximum 15 persons per guide

Reservation: Visit Antwerp – Booking and Ticketing, tel. +32 (0)3 232 01 03 (working days 9 a.m.–4 p.m.), [email protected]
For individuals
Price: € 10 (including museum entry)

Maximum 15 persons per group

Location: Rubens House, Wapper 9–11, 2000 Antwerp

Dates: Saturday 8 July 2017 10.30 a.m.–noon, Sunday 16 July 2017 2–3.30 p.m., Saturday 12 August 2017 10.30 a.m.–noon, Sunday 20 August 2017 2–3.30 p.m., Sunday 17 September 2017 2.30–4 p.m., Sunday 24 September 2017 10.30 a.m.–noon, Sunday 8 October 2017 10.30 a.m.–12 noon, Sunday 22 October 2017 10.30 a.m.–noon

Booking required: +32 (0)3 201 15 50 (during museum opening hours) or [email protected]
Museum Night at the Rubens House on Saturday 5 August will be David Bowie all the way, with lots of great music! Info at www.rubenshuis.be – tickets at www.museumnacht.be
Publication
David Bowie's Tintoretto: Angel Foretelling Saint Catherine of Alexandria of her Martyrdom (Colnaghi Foundation) will be presented at Frieze London (5–8 October 2017). The publication will also be presented later that month at the Rubens House in Antwerp. Further information will be provided to the press in due course.
[1] S. Simonart, 'Lust for Life, Lust for Art: The Rubens House: a Museum Bowie Loved', in David Bowie's Tintoretto: Angel foretelling Saint Catherine of Alexandria of her Martyrdom, London: Colnaghi Foundation, 2017, p. 154.
The Rubens House 2017-2021
DOCX - 19 Kb
Download